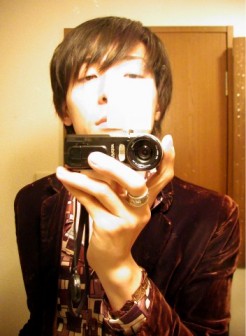 name:Uris Phage
sex:male
a portrait painter
a nerd of Linux

Uris was influenced by...

Painters:
Gustav Klimt, Jakuchu Itoh, H.R. Giger, Jan Brueghel, Salvador Dali, Pablo Picasso, Kazuma Kaneko, Togyu Okumura, Joy Ride (Libido), Mio (My friend), Satoko Chiba, Adolf Hitler, Paul Gauguin, Goya Y Lucientes, Marc Chagall, Pants (My friend), Kazusada Kazu (My friend), Emily (My friend), Yoppy (My friend),

Cartoonists:
Katsuhiro Ohtomo, Moyoko Anno, Mineo Maya, Mamoru Nagano, Junko Kawashima, Misakura Nankotsu, Eroba Geromi,

Musicians:
Classical:Maurice Ravel, Franz Peter Schubert, Pjotr Il'ic Cajkovskij,
50's:Akihiro Miwa, Kyu Sakamoto,
60's:Shinichi Mori, The Animals, The Yardbirds, The Rockin'berries, Four Pennies, The Honeycombs, The Nashville Teens,
70's:The B-52's, Godaigo, Kaientai, Masato Shimon, Kazuki Tomokawa, Takurou Yoshida,
80's:Spacemen 3, Loop, Ravi Shankar, The Jesus And Mary Chain, Angelo Badalamenti,
90's:Moose, Kula Shaker, The Blankey Jet City, Spectrum, Strangelove, Chapterhouse, Radiohead, Me, Mooch, Thee Michelle Gun Elephant, Butthole Surfers, Goky's Zygotic Mynci, The Weekenders, The Moonflowers, Pulp, Ray Wonder, The Bluetones, Daisy Chainsaw, Moonshake, Beck, The Stone Roses, Longpigs, Verve, The Telescopes, Pinko Pinko, Placebo, Robert, Komeda, Happy Mondays, Duffy, Ride, Blur, Adorable, The Cardigans, The Darkside, Eri Tsudzuki, Jon Rose, Bettie Serveert, The Silly Pillows, Shack, Combustible Edison, Donna Regina, Spiritualized, The Boo Radleys, Dashiell Hedayat, Eggstone, Thurman, Butthole Surfers, Cornelius, Primal Scream, Medicine, My Bloody Valentine, Menswear, The Wannadies, Suede, World of Twist, Flippers Guitar, Slowdive, Bleach, Massive Attack, Kahimi Karie, Pavement, Stereolab, The Shamen, Carter The Unstoppable Sex Machine, The Charlatans, Beastie Boys, Oasis, Gene, Jamiroquai, Smashing Pumpkins, The La's, Los Imposibles, Curve, Coldplay, Cloudberry Jam, Sonic Youth, The Jon Spencer Blues Explosion, Slipstream, Saint Etienne, Pimlico, The Dylans, The Flaming Lips, They Might be Giants, Stereo Total, Portishead, Valerie Lemercier, Spearmint, Le Mans, Kenji Ozawa, Supergrass, Barry Adamson, Andreas Dorau, Alanis Morisette, PJ Harvey,
00's:The Vines, Malajube, Mirror Balls, Mando Diao, Of Montreal, Minoru Torihada, Air, Rosso, The Coral, Sigur Ros, The Zutons, Kasabian, Concept, Tommy February, Coldplay, Marilyn Manson, Keane, Franz Ferdinand, The Jeevas, The Blueskins, El Skunk Di Yawdie, Nelly Furtado, Avril Lavigne, Tocotronic,
10's:Ayako Ikeda, Kawada Mami, Noisuf-X, hyadain, Risa Takagi,

Novelists:
Albert Camus, Hermann Hesse, Souseki Natsume, M. Dostevsky, Ikki Kajiwara, Vladimir Nabokov, Franz Kafka, Emile Zola, Sir Arthur Conan Doyle, Guy de Maupassant, Osamu Dazai, Jean-Paul Sartre, Willam Somerset Maugham, Ango Sakaguchi,

Philosophers:
James Allen,

Doll craftsmen:
Miho Satou,

Fashion Designers:
Alexander Mcqueen, Raf Simons

Photographers:
Julian Pransky-Poole(a member of strangelove),

Vioce Artists:
AFRA, Asumi Nakata, Kaori Nazuka,

Stateman:
Hugo Rafael Cha'vez Fri'as,

Thank you.